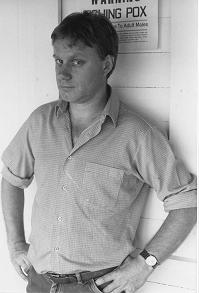 Author: Lianne Mclarty
From: Canadian Encyclopedia
Hancox, Richard, "Rick," filmmaker, film teacher, musician (born in Toronto, January 1, 1946). Hancox grew up in Ontario, Saskatchewan and Prince Edward Island. All three locations have informed his poetic and finely crafted experimental documentaries, which fuse personal landscapes with issues of time, memory and history.
Hancox was introduced to film at the University of Prince Edward Island by American documentary filmmaker George Semsel. He went on to do graduate work in film and photography at New York University and at Ohio University, where he earned an MFA in film in 1973. During that period his short films won five major awards in the Canadian Student Film Festival.
After working briefly in New York as an independent filmmaker, Hancox went on to teach film at Sheridan College in Oakville, Ont (1973-85).
There he influenced a generation of Canadian independent filmmakers including the documentarians Holly Dale and Janis Cole and experimental filmmakers such as Richard Kerr, Philip Hoffman, Michael Hoolboom and others, who, along with Hancox, have been recognized as belonging to a movement in Canadian experimental film that is referred to as the "escarpment school" - named after the geological feature, the Niagara Escarpment. Hancox left Sheridan to teach in the Communication Studies Department of Concordia University in Montréal.
Hancox often blends the poetic with the cinematic as in the trilogy of "poetry films" Waterworx (1982), Landfall (1983) and Beach Events (1985). He is also known for autobiographical documentaries best illustrated by Home for Christmas (1978). Moose Jaw (1992), which was recognized in Take One magazine as one of the ten best films ever made in Canada, marks a new direction for Hancox. Like all his best work, Moose Jaw charges the term "landscape" with extra meaning. His work demonstrates, through the cinematic image, how personal memory is mediated by social and historical contexts.
***
Author: Peter Harcourt
From: Canadian Film Encyclopedia
Rick Hancox is an important figure in the development of experimental film in Canada – both for his filmmaking and his influence. From 1973 to 1985 he taught at Sheridan College, where he and his colleague Jeffrey Paull were instrumental in shaping the sensibilities of a new generation of filmmakers. Hancox's students included the documentarians Janis Cole and Holly Dale and experimental filmmakers Mike Hoolboom, Philip Hoffman and Richard Kerr.
Inspired by the American independent filmmaker George Semsel, with whom he had studied both at the University of Prince Edward Island, and later, the University of Ohio in Athens, where he received an M.F.A., Hancox encouraged his students to investigate questions of time, memory, landscape and documentary convention. He also explored the relationship of images to words in film, whether spoken or as super-titles on screen. Arguably, the trend toward personal cinema and experimental documentary in Canadian experimental cinema in the 1980s began with Hancox, thus indirectly establishing what has come to be known as the Escarpment School. In 1986, Hancox joined the communication studies department at Concordia University.
Writing for The Canadian Encyclopedia, Lianne McLarty suggested that "Hancox often blends the poetic with the cinematic, as in the trilogy of 'poetry films' Waterworx (A Clear Day and No Memories) (1982), Landfall (1983) and Beach Events (1984). He is also known for autobiographical documentaries best illustrated by Home for Christmas (1978)." In her extended study of his work Richard Hancox (Art Gallery of Ontario, 1990), McLarty wrote that the "general movement in Hancox's films has been from the personal to the collective environment." Indeed, his work might be seen to evolve through the observation of the banalities of day-to-day life toward a surreal feeling for the separateness of landscape and the alienating effects of our technological world.
Arguing that the modernist movement in the arts largely bypassed Canada, critics like Michael Dorland have suggested that experimental filmmakers such as Hancox sometimes retreat to nostalgia, which he defines as "the longing for a past that never was from the perspective of a present one cannot accept (Richard Hancox, 1990)." Dorland continues, "the Hancoxian universe compels one 'outside our time' into irony."
Hancox's autobiographical films move from the irony of self within landscape (House Movie, 1972; Home for Christmas) through aspirations toward transcendence, with the help of the poetic texts of Wallace Stevens and D.G. Jones (Waterworx, Landfall) to a return to the irony of self within landscape — but with a difference. Moose Jaw:There's a Future in Our Past (1992) documents Hancox's return to one of the places where he grew up, as if to investigate the changes that have occurred since this once thriving town lost its railway. Although spectators are allowed to see many characteristics about this space — the remnants of the old railway station, the Eaton's department store, the annual Kinsman parade — Hancox presents himself largely as a shadow, cut off from a living relationship with this past. He ends up as just another exhibit in the transportation museum, both trapped and bored by his own quest, suggesting that among the many ironies in this particular film, the greatest resides in its title.ex